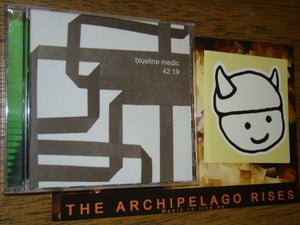 $

13.00
From Hobbledehoy:
After a split EP with critically acclaimed Americans Ted Leo & The Pharmacists, Melbourne's own Blueline Medic recorded their third full length 42:19. It's rich, textured and drenched with their signature unabashed melodies coupled with succinctly positioned harmonies. Blueline have nailed an album of their very own classics while managing to extend their musical and production reach far beyond previous outings.
-------
The shipping price quoted with this listing is for Australian destinations. Everyone in the world is welcome to buy something from The Archipelago Rises, however if you do not live in Australia, you WILL receive a Paypal Payment Request for the remainder of the shipping monies required to ship your order. You are most welcome to cancel your order if you are not happy with the shipping cost.
Costs can be found here: www.auspost.com.au
Australia Post calculates world rates by 4 zones. The most expensive (Zone D, UK etc) is listed below
Parcels:
up to 500g - $17.20 (ie one 12" record),
501g-1kg - $37.00 (ie one dble LP)
1.001kg– 1.5kg - $53
One CD, one tape (without case) or one 7" usually goes for about $6 the world over.
If the actual postage charge happens to be cheaper than what you've paid, you will have the difference refunded back to you.