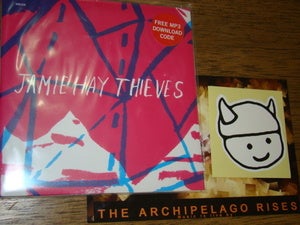 $

8.00
From Hobbledehoy:
1st pressing is limited to 500 hand-numbered copies on a matt-finish jacket with download code included inside. Jamie's (very) long awaited solo debut after joining Hobbledehoy in 2008.
In the midst of a heavy touring schedule and sometimes releasing a few records with A Death In The Family, Conation, Fear Like Us, Tyre Swans & Ribbons Patterns, Jamie slowly assembled his first solo release. Recorded in 2009 during the brief quiet periods, it wasn't until Autumn 2010 that the entire mixing, mastering + artwork process could be fully completed. Thieves heralds a beautiful progression in Jamie Hay's catalog, anchored by his trademark vocals and haunting undertones.
--------
The shipping price quoted with this listing is for Australian destinations. Everyone in the world is welcome to buy something from The Archipelago Rises, however if you do not live in Australia, you WILL receive a Paypal Payment Request for the remainder of the shipping monies required to ship your order. You are most welcome to cancel your order if you are not happy with the shipping cost.
Costs can be found here: www.auspost.com.au
Australia Post calculates world rates by 4 zones. The most expensive (Zone D, UK etc) is listed below
Parcels:
up to 500g - $17.20 (ie one 12" record),
501g-1kg - $37.00 (ie one dble LP)
1.001kg– 1.5kg - $53
One CD, one tape (without case) or one 7" usually goes for about $6 the world over.
If the actual postage charge happens to be cheaper than what you've paid, you will have the difference refunded back to you.