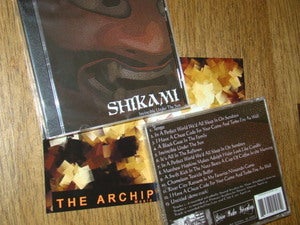 $

2.00 - On Sale
DMR001 - Shikami - Invincible Under The Sun
This is Shikami's entire discography all in one. The early demo E.P. "As Wolves Amongst Sheep", as well as their final unreleased recording made just a month before their breakup in 2004. Also included is a song the band recorded during 2006 during rehearsals for a reunion show. 13 songs of Japanese and video game inspired metal from Macon, Ga. Limited to 40 copies. Comes with a 2"x2" sticker.
SOLD OUT at source
--------
The shipping price quoted with this listing is for Australian destinations. Everyone in the world is welcome to buy something from The Archipelago Rises, however if you do not live in Australia, you WILL receive a Paypal Payment Request for the remainder of the shipping monies required to ship your order. You are most welcome to cancel your order if you are not happy with the shipping cost.
Costs can be found here: www.auspost.com.au
Australia Post calculates world rates by 4 zones. The most expensive (Zone D, UK etc) is listed below
Parcels:
up to 500g - $17.20 (ie one 12" record),
501g-1kg - $37.00 (ie one dble LP)
1.001kg– 1.5kg - $53
One CD, one tape (without case) or one 7" usually goes for about $6 the world over.
If the actual postage charge happens to be cheaper than what you've paid, you will have the difference refunded back to you.